Both my 12 year old daughter and my 10 year old son are very happy with Chay's Tae Kwon Do. They have been involved for over two years and are on their way to earning their black belts. Master Paul Chay and his team have a very well run program that keeps them focused on their goals and are providing them with skills that will serve them well throughout their life.
Master Chay maintains a structured, organized, and enjoyable environment for students of all ages to learn Tae Kwon Do. The instructors are knowledgeable and the training is professional. Expectations are clear, class time is well-utilized, and safety is maintained during lessons. All ages and skill levels are accommodated. Performance standards are clear and belts must be earned. My children and I have been training for several years and I highly recommend this as a family activity.
When I started the Krav Maga program at Chays I was looking to learn a little self defense. I had no prior experience so I was pretty nervous.However, my nerves were quickly put to rest. I found the instructors as well as the students were very supportive and encouraging. The classes have a wide range of ages as well as fitness levels. The instructors are very knowledgeable in what they teach and always able to answer any question that I may have. They also do a great job in changing up the classes so they don't get boring and repetitive. I've been participating in the Krav Maga program for 12 years now. Thank you to Master Chay and his instructors for the years of great service!
Joining Chay's has been an excellent experience for our family. We enrolled three of our kids and we've seen them gain so many benefits. Discipline, self confidence, fitness, strength, flexibility. Master Chay and his instructors maintain a positive environment where your kid, if he/she puts in the effort, can learn and excel. Highly recommended.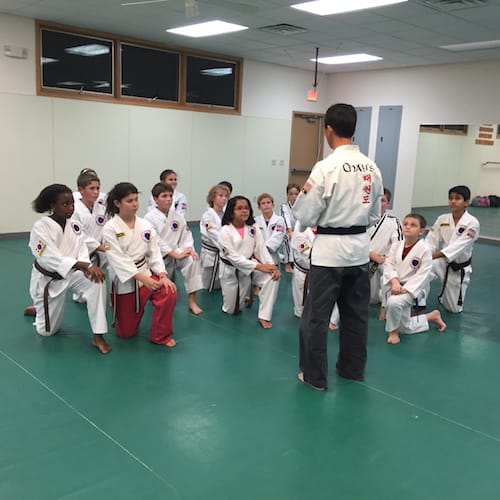 Master Chay runs a tight shift. However, I really like that because it has helped my two kids build confidence and self-esteem. All the instructors are great and very supportive. My kids really enjoy Tae Kwon Do, and really would love to be black belts some day.
My children and myself all attend class at Chay's and love it. Within the first few months I noticed a big difference in my children's attitude and fitness levels. But it is FAR MORE than just learning to defend yourself by kicking and punching. They instruct how to be a better person in general using the five tenets of Tae Kwon DO, Courtesy, Integrity, Perseverance, Self Control, and Indomitable Spirit.
I started taking the Krav Maga self defense classes about 3 years ago (on and off because I'm only in the Kenosha area during the school year) and have loved every second of it. I was insanely nervous the first few times, having never done any contact sports like basketball or soccer, but the instructors were all so patient with me. They continually encouraged me, while also kicking my butt and giving me an awesome workout. I don't have a bad thing to say about any one of them! I can now proudly say that I am a level two student, and have gained so much confidence through this program. I would recommend it to anyone looking to learn real life self defense and also tackle any fitness goals you may have! I only wish they were closer to Chicago so I could keep going here after I graduate college! Haha
I always thought I was strong. I used to workout 3 - 4 times a week. Until I joined Chay's, I didn't realize I was exercising in my comfort zone. And my flexibility was almost gone. It is hard to find a martial arts school with a lot of adult students and flexible hours. In Chay's tae kwon do, lot of adult students and you can show up any day of the week. Each class is a perfect combo of stretches, martial art, self defense and some cardio burst exercise. Every week the combo changes. I never left class without sweating. Most of the students are practicing for 8+ years, which itself explains the quality of class. I have been practicing here since 2015. Highly recommend to anyone looking for a good workout and/or self defense. I can't speak for the kids class, but from what I observed, kids are well motivated, taught discipline, respect and much more. It's more like a school for kids, with close supervision and feedback to parents.
Debra Klingensmith Pinedo
This is a well structured class. The Art of Tae Kwon Do is a beautiful one. It teaches, respect, honor, discipline, and fitness. Also self defense. My Daughter has been in Tae Kwon Do one year today. She is 7 years old and is loving the Art. I believe all children should be in this to teach them balance in their daily lives. Thank you to Master Chay and all instructors for all you have taught my daughter:)
Inspiring a child to be their best, to try their hardest, and to never give up! I am proud that my girls are a part of a great team!
A wonderful school motivated teachers who know each child by name. They also teach how to be a better person and what I think is especially wonderful is they teach the kids about bullying. I think that the kids who take Tae Kwon Do are much better students at their regular school as well and turn out to be better adjusted teens and young adults.
Master Chay maintains a structured, organized, and enjoyable environment for students of all ages to learn Tae Kwon Do. The instructors are knowledgeable and the training is professional. Expectations are clear, class time is well-utilized, and safety is maintained during lessons. All ages and skill levels are accommodated. Performance standards are clear and belts must be earned. My husband and children have been training for several years and I highly recommend this as a family activity.
Master Chay is serious about the Tae kwon do, he teaches. His classes are structured, fun and he interacts with each group to make sure they are focused and doing as they should. I would like to see more local tournaments, where his students complete against other studio's.
Great place to help your child gain confidence and learn to be active in attaining their goals. My child loves learning the forms & the fun games at the end of class.
My daughter has been taking Tae Kwon Do lessons at Chay's Tae Kwon Do School in Racine for the last five years, and the benefits that she has received there have been immeasurable. She has become physically fit and is able to defend herself. In addition, she has gained a great deal of self-confidence and focus that she has been able to apply to many areas of her life. My daughter has been encouraged to work diligently towards her goals, and she has taken great pride in achieving these goals. As an added bonus, she has made many wonderful friends in this supportive and family-focused environment. The instructors at Chay's are well-trained and are excellent role models who inspire the students to work to their highest potential. I would strongly recommend Chay's Tae Kwon Do School to anyone who is interested in becoming involved in martial arts.
Janet Messersmith Hornickel
Master Chay really cares about the kids. Very interested in behavior.
This is an excellent program with first-rate instructors open people of all ages and skill levels.
I've been attending this school since august and i never once have felt let down or disappointed. This place made me not only is a great workout but also very disciplined. Thanks to the excellent teachers and friendly students i recommend this place to anyone and everyone who wants to do martial arts. Thanks Master Chay!
Awesome young role models for kids to look up to. Excellent training and direction for young people.
I have two children enrolled at Chay's Tae Kwon Do Academy and it has been an extremely rewarding and beneficial experience for them both. While Martial Arts, in general, is touted for its benefits; building self-confidence, self-discipline, and self defense, to name a few, Chay's goes above and beyond. There are wonderful role models that are from within the school itself. Young adults that were students there and grew into leaders, and opportunities for all students to do the same. Students are encouraged to be the best that they can be in a positive way and taught that effort put in will equal the results achieved. I HIGHLY recommend Chay's Tae Kwon Do.
There simply is not better place in the Midwest to learn Krav Maga then Chay's. The instructors are all certified by Krav Maga Worldwide, the school is clean, the staff is courteous, the classes embrace all levels of skills from beginners to advanced. I take Krav four times a week and since starting , I have quit smoking, lost weight, gotten in shape, and met a whole new group of friends, not mention learned real world self defense skills. The fellow Krav Maga students all watch out for and encourage each other to obtain goals. What I like best about the Krav program at Chay's is that there are four instructors and each brings something totally different to the table. If you are going to learn self defense then I can say from experience there is no better place around then Chay's, two generations have made this school one of the most respected schools for good reason.
The Krav Maga program has been fantastic for my self-confidence, health and weight loss! I strongly recommend this to anyone who doesn't want the typical gym workout.
Our children have been attending classes & camps at Chay's for 8 months now. We continue to be impressed with the school & instructors. All instructors are knowledgable, engaged and professional. The school fosters an environment for learning, growth, confidence, discipline and respect. The fundamentals practiced and skills learned integrate into everyday life and add to the core character of each student. Our family couldn't be more happy with choosing Chay's Tae Kwon Do.
Chay's Tae Kwon Do is the premiere martial arts school in the greater Racine, WI area. If you are looking for first-rate instructors, flexible schedule, and successful students, look here. Classes are effective, safe, fun and open to people of all ages and skill levels.
My 13 year old son has been a student at Chay's Tae Kwon Do for over a year now. He absolutely loves it there. A couple of years back my son lost interest in playing conventional sports such as football, baseball and basketball. But I believe its important for young boys and girls to have some sort of healthy physical outlet. So we looked around the Racine area for something he would actually want to do. After attending his first class, my son decided that Tae Kwon Do was for him. Master Chay provides a variety of reasonably priced belt schedules and a few different class hours to fit everyone's needs. The Experienced and Motivated Instructors are definitely there to help and teach the students, not feed their own egos. Which really put my mind at ease when I first enrolled my child into a martial arts class. Part of Master Chay's class requirements are that students have to show their report cards and show respect in both class and at home. If either the parents or Master Chey do not believe the student has behaved well enough, they do not get to test for their next belt. I really like that aspect of Master Chay's Class because it really motivates my son to do well in school and at home. My son has been going to Master Chay's classes 1-3 nights a week for over a year now and he still looks forward to every single class. That, in and of itself, is saying something. I would definitely recommend Chay's Tae Kwon Do to anyone that is thinking of enrolling in a Martial Arts class.
My children have been going to Chay's Tae Kwon Do for the past two years(current ages are 10 and 7) so I write this review from the perspective as a parent.
Master Chay has high, but realistic expectations and extensive martial arts experience. The instructors lead by example and encourage all students to put their best foot forward, both in Tae Kwon Do and in their lives outside of class.
As my daughter progresses through her Tea Kwon Do training, I've watched her increase her strength, coordination, flexibility and has learned to strive for continuous improvements in her training.
My son has also increased his flexibility, endurance, strength and focus(and that's no small task, as he struggles with this on a daily basis). Master Chay has worked side by side with our family and has always been available if we needed advice - he responds promptly to e-mails and phone messages.
The confidence that both children have built through Chay's Tae Kwon Do shines through in others areas of their lives.
For Master Chay, Tae Kwon Do is not nearly a job or a business; it is his undeniable passion.
Chay's Tae Kwon Do has been such a great experience for my kids over the years! The instructors are very knowledgeable and always encouraging, and very positive to everyone that it's almost an extended family for us. Chay's has also taught them life lesson skills like confidence in themselves and respect for others, which has helped outside of Tae Kwon Do as well. The kids have made such good friends there and they look forward to going, it's not just a sport to them, but has become a part of their life. Thank you Chay's for this great experience!
Enough to say that my daughter went "no more Irish dancing - I'm going to Tae Kwon Do from now on"! And although I had my reservations, mostly because she was doing the Irish dancing for 4 years, I have to admit that no only is a better fit for her personality , heh, but also for her development as a person. From the dog eat dog atmosphere of the Irish dancing, to the friendly, helpful, values oriented martial arts training! Cannot be happier. Oh, did I mentioned the adult Krav Maga classes? Yep, awesome for all ages, but especially for middle aged parents. I feel more in shape now, after one year of Krav Maga, then when I was in my 20's. No joke people.